REQUEST A QUOTE
Request a double glazing quote today for windows, doors & conservatories.
Bi-Fold Doors in Waterlooville
With Aperture, you can get sleek and stylish aluminium bi-fold doors supplied and installed in Waterlooville. In fact, we offer our services to the neighbouring areas of Fareham, Chichester, Southsea, Denmead, Cowplain, Portsmouth, Gosport, Southampton, and Hampshire as well.
We are a FENSA-approved company, but our service exceeds even their expectations. In fact, you can see the string of satisfied customers we've accumulated over the years from our Checkatrade reviews. These will give you a good idea of the way we can help you with your home improvement and your bi-folding door installation needs.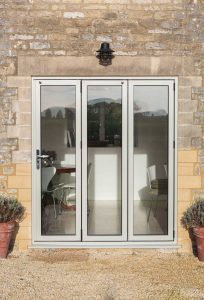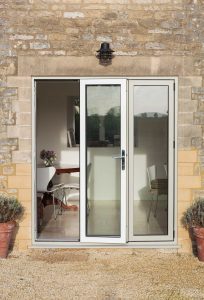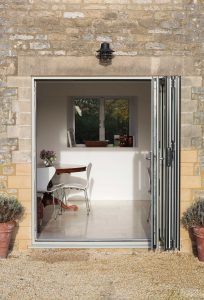 Aluminium Bifold Doors
With aluminium bi-fold doors from market-leading ALUK and Smart Systems, you get a stunning design feature in your home. These beautiful aluminium folding doors have slim, yet sturdy, aluminium frames and large glazed areas. You can have 2 or more panels, giving you the freedom to use them in as big or as little a space as you want. To open them, you simply fold them away into the corner.
Since these slim folding doors fold into a neat and narrow stack, you get use of almost the entire aperture to use. Even when the doors are shut, you get unobstructed views of your outdoors along with bright, natural light.
Additionally, the strength of aluminium means your bi-folding doors cannot be easily damaged. This means your home gets better security because of the resilience of the material. However, we don't just rely on the sturdiness of the doors. We also install them with multi-point locking systems to give you complete protection.
Combine this with the range of colour and finish options you get, these aluminium folding doors can transform your Waterlooville home instantly.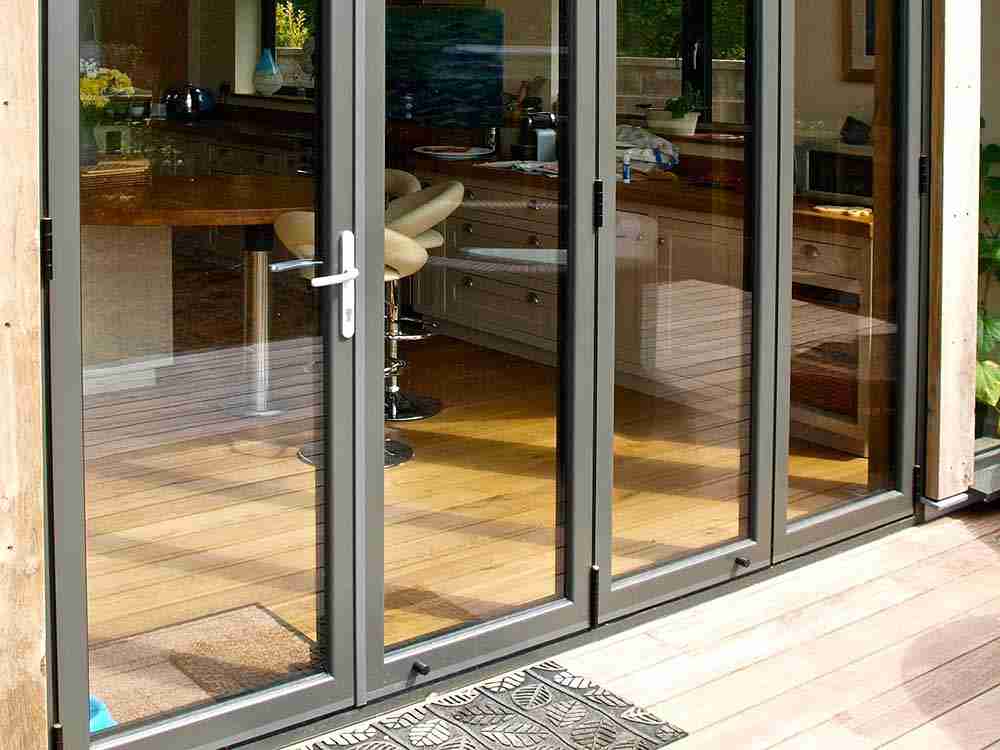 Benefits of Bifolding Doors
Stylish bi-fold doors from ALUK and Smart Systems
Slim Sightlines

With aluminium concertina doors, you get amazing strength even with narrower frames. As a result, you get more area that is glass, giving you impressive views and even more sunlight. In this manner, you are able to enjoy the beauty of nature from within your home.
Durable Doors

Aluminium as a material is extremely long-lasting and resilient. It is difficult to damage anyway but our powder-coated skin makes even the surface incredibly scratch-resistant. As a result, aluminium bi-folding doors tend to last years and look almost new.
Secure & Safe

While the aluminium profile of these bi-folding doors is quite resilient, we don't just rely on the strength to keep you safe. We also fit our aluminium folding doors with high-security locking systems that protect your home from even the most determined intruders.
Thermally Efficient

In the past, aluminium doors were considered very poor at thermal insulation. However, with technological innovations, we are able to bring you highly heat-efficient double glazed bi-fold doors. They give you a warmer home with less energy usage.
Aluminium Bifolds Prices, Waterlooville and Hampshire
If you are operating within a budget, you will love our aluminium bi-fold doors prices in Waterlooville, Cowplain, Denmead, Chichester, and Portsmouth – throughout Hampshire and West Sussex. We give you competitive bi-fold doors rates so you can complete your home improvement project without breaking the bank.
For aluminium bi-fold doors quotes, try out our online bi-fold doors quote tool. Once you've submitted your details, a member of our team will get back to you with your free bifold doors costs.
If, however, you are looking for more information, get in touch with us. We will be happy to answer all your questions and give you a bespoke bi-fold door price quote for your specific needs.
High Performance Aluminium Bifold Doors
With our aluminium bi-fold doors, you will never have to worry about your aluminium folding doors jamming, or not operating smoothly. We give you high-quality hardware that makes your doors open and close extremely easily throughout their lives.
Their superb performance also extends to the security they offer as well as their thermal efficiency. With our aluminium bi-fold doors, you get complete protection for your family, home, and possessions. What's more, these doors will last you several years. In fact, we offer a 10-year performance guarantee on them.
They also help keep your home warm with lower energy usage. These double glazed aluminium bi-fold doors provide exceptional insulation. This results in your home warming up faster and staying warm longer since you're no longer losing heat.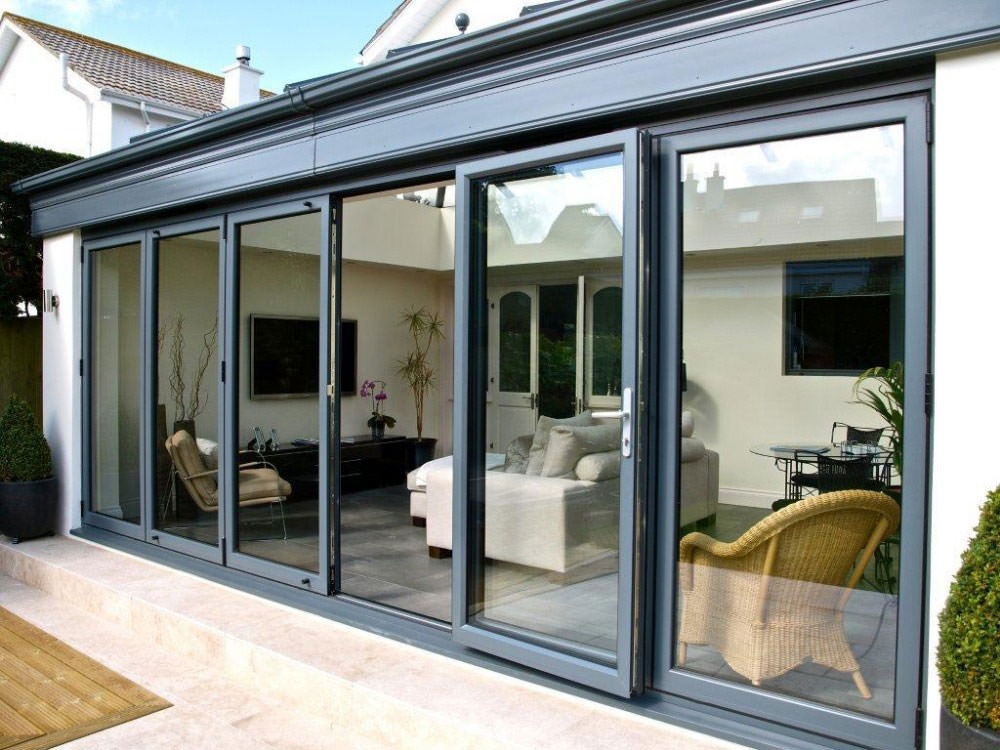 Coloured Bifold Doors
When you're decorating your home, it needs to be according to your home's architecture as well as your taste. This is why we offer our aluminium bi-fold doors in a stunning selection of colours. This way, you can choose the colour as well as the finish of your door as well as the door furniture.
You can also tailor your bi-fold doors to your specifications in terms of size and configuration. They can be fitted in an aperture that is the width of a standard door or replace an entire wall. You can choose to have two panels or up to seven. We even offer low threshold options if you want to make your home mobility-friendly.
SMARTS Bi-Fold Doors Brochure
ALUK Bi-Fold Door Brochure