REQUEST A QUOTE
Request a double glazing quote for windows, doors & conservatories.
Roof Lanterns, Waterlooville
At Aperture Windows, we provide striking-looking roof lanterns for your home in Waterlooville. We will also supply and install FENSA-approved double glazing and uPVC roof lanterns in the neighbouring areas of Fareham, Chichester, Southsea, Denmead, Cowplain, Portsmouth, Gosport, Southampton, and Hampshire.
We have a history of exceeding customer expectations with our reliable and high-quality service. In fact, you can get an idea of how we can help you by going through our Checkatrade reviews. This way, you can get a good idea about how we can assist you with your home improvement project and lantern roof installation.


uPVC Roof Lanterns
Our uPVC roof lanterns are ideal for rooms that can not have conventional windows for any reason. In fact, a conservatory roof lantern will make your glazed extension brighter even with windows on all walls. Whether it is flat roof lanterns or raised lantern roofs, you get to enjoy enhanced lighting and a fantastic view of the outside.
The best part is, with our Eurocell Skypod roof lanterns, you don't even have to worry about losing heat from your skylights. These roof lanterns utilise the broken up profile of uPVC to give you great insulation. This way, not only can you enjoy both the sun and the rain from inside your home, you can do so without getting cold.
In addition to being incredibly heat efficient and secure, these Eurocell Skypod skylights are also stunning to look at. Since they don't have any crestings or finials on the roof, your roof lanterns have a cleaner look. It also means that there is no obstruction in the path of the light flooding in.
You also get a choice of colours and designs. As a result, you can tailor the look of your Skypod lantern roof to match your property's look as well as your home's décor. We offer two bar or three bar Gable pitched roofs styles. Additionally, we offer a spectrum of external colours, as well as double glazed glass finishes like clear, blue, bronze, or neutral.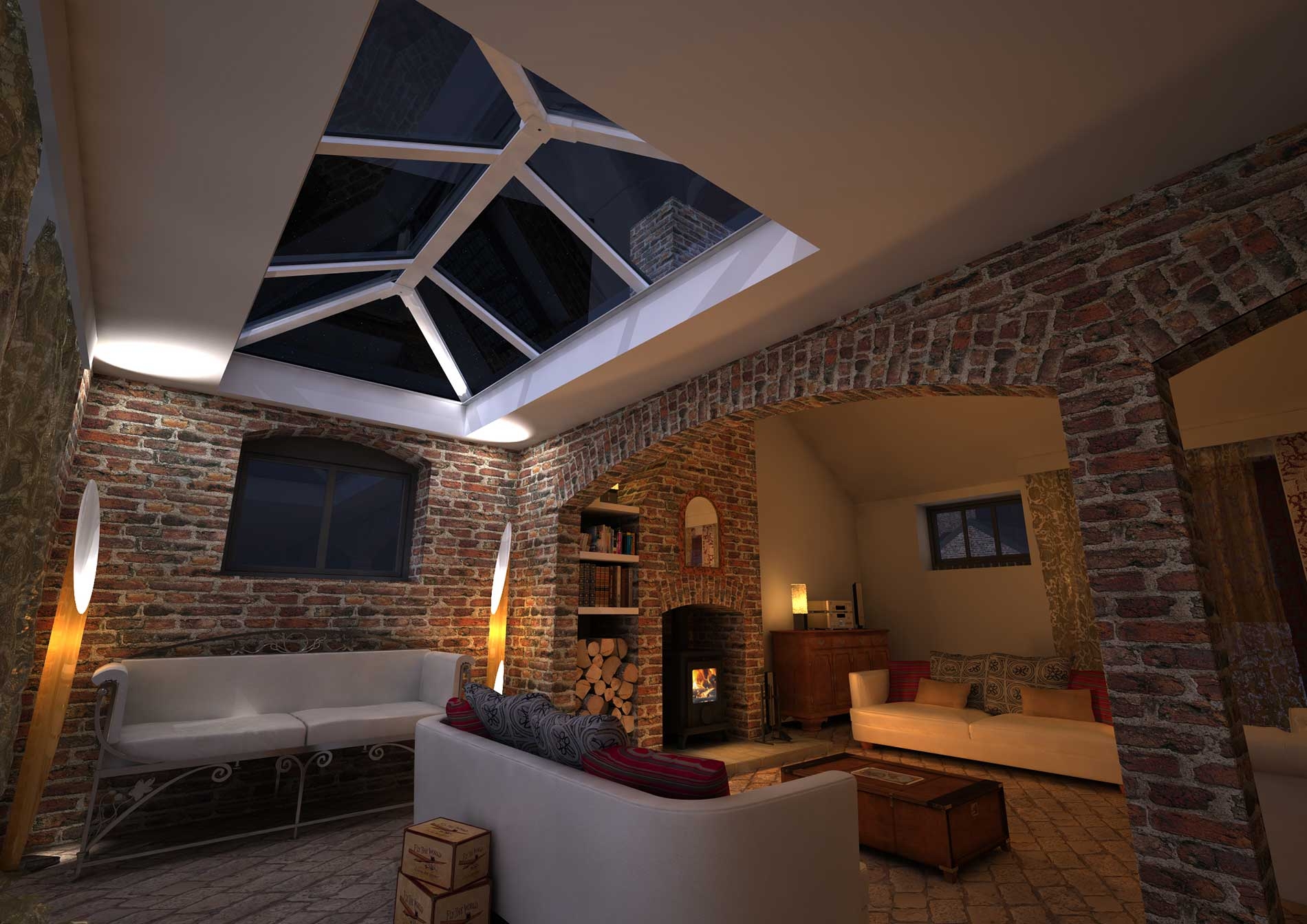 Modern uPVC Roof Lanterns
Illuminate your rooms with uPVC roof lanterns from Eurocell
Natural Light

Flood your room or conservatory with natural light with our slim-framed Skypod skylights. You can enhance the brightness of any room, even if it does not have the option of windows on the walls with these lantern roofs.
Warm Room

Our uPVC roof lanterns, along with our reliable double glazing, gives you a well-lit room that is also warm. These skylights are well-insulated enough to keep the heat retained inside, giving you a room that's warm and bright.
Design Choice

With our Skypods, you get an attractive design feature that is tailored to your needs as well as your home's aesthetics. The clean lines of these roof lanterns have no obstructions, and you get a choice of colour, glass, and design.
Cost Effective

Unlike aluminium skylights, our uPVC roof lanterns are incredibly competitively priced. These are designed to give you fantastic performance. Combined with the affordable roof lantern prices we offer, you get a great deal.
Roof Lantern Prices, Waterlooville and Hampshire
Our uPVC roof lantern prices are excellent for you if you are improving your home within a budget. These lantern roofs are more affordable than aluminium roof windows and give a durable performance.
You can request a quote using our online quoting engine. Simply enter your needs into this clever tool, and the details will be passed onto our team who will provide you with your personalised roof lanterns quote.
Alternatively, you can also contact us for any additional information you may require.
High Performance uPVC Lantern Roofs
Our Skypod roof lanterns from Eurocell are crafted to give you enduring performance. In fact, we offer a 10-year manufacturer's guarantee on all our skylights. This way, you get roof windows that are affordably priced and give you guaranteed features. Moreover, you get the peace of mind of knowing you made a sound investment.
One of the main features you will get with our Skypod lantern roofs is exceptional thermal efficiency. Since heat tends to rise, a skylight that is not insulated will lead to warmth escaping. With our uPVC roof lanterns, the warmth of your heating remains contained within the room, making your environment more comfortable.
Additionally, we give you roof lanterns that are delivered quickly and installed even faster. As a result, you can enjoy your new skylight without having to go through a long waiting period or suffering through a lengthy installation.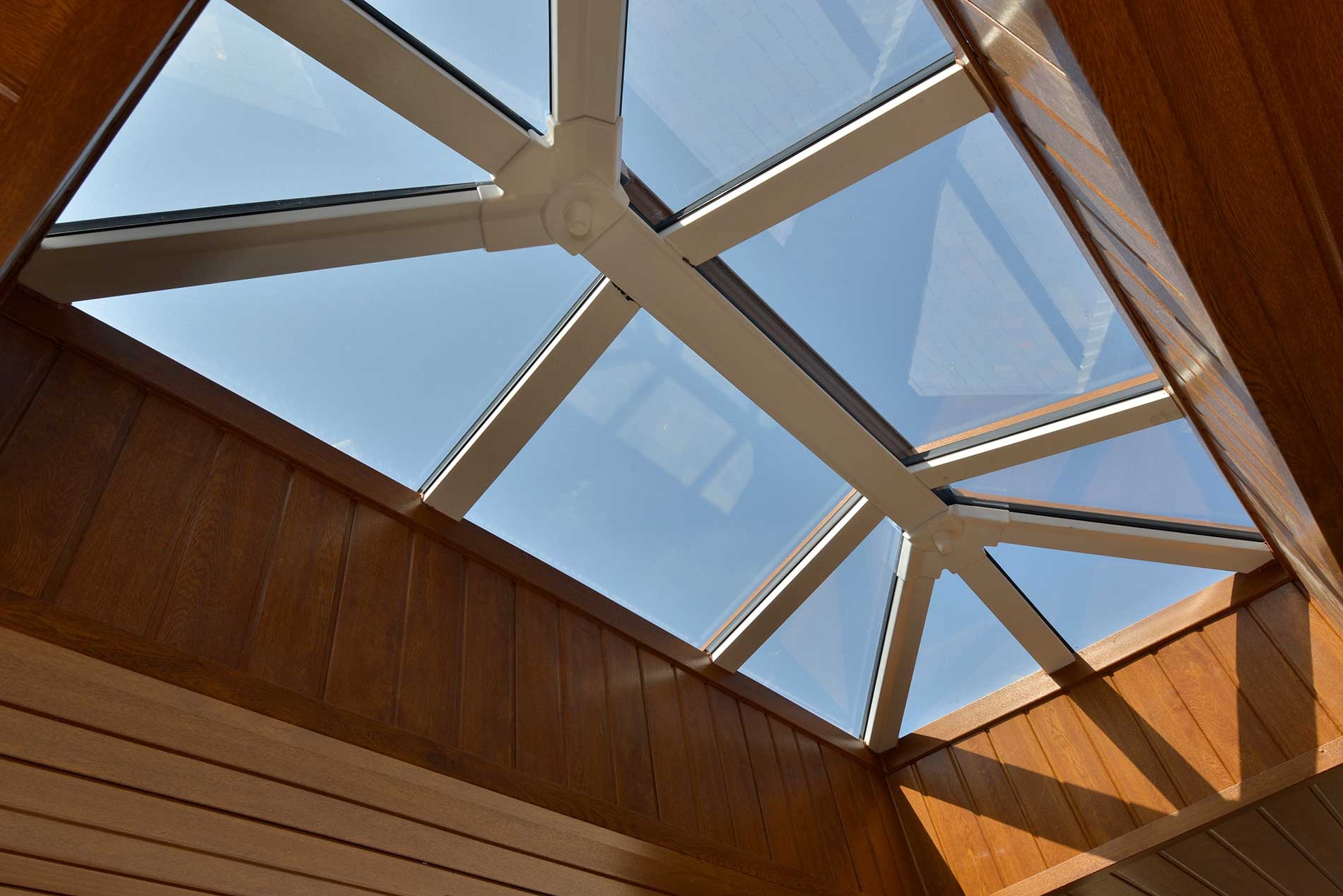 Tailored Skypod Roof Lanterns
No matter how well it lights up your room, a roof lantern that does not match your property's style will never look as good. This is why we offer you a range of styling options so you can tailor your skylights to your home's, as well as your own, taste and aesthetics.
You can select the frame colours of your choice, allowing you to match your roof lantern to the décor inside as well as the colour scheme of your property outside. We also give you a selection of glass and glazing finishes to choose from.
Finally, you can choose the style of your roof lantern as well. We have a two bar or three bar Gable pitched style as well, depending on your needs. As a result, you get more control over how your roof lanterns look and how your home looks.
Why Choose the Skypod Roof Lantern?