FREE ONLINE QUOTE
Get your free online double glazing quote today for windows, doors & conservatories.
uPVC Tilt and Turn Windows
At Aperture Windows, we are FENSA-approved suppliers and installers of uPVC tilt and turn windows in Waterlooville. We provide window installations in areas such as Fareham, Chichester, Southsea, Denmead, Cowplain, Portsmouth, Gosport, Southampton and Hampshire.
Check out the reviews on our Checkatrade page to see how we have helped homeowners with their double glazing and uPVC tilt and turn window replacement needs.
Tilt and turn windows have a clever design that allows you to control the amount of light and ventilation as well as the security of your home. These windows tilt inwards with the opening at the top. As a result, these are incredibly secure and especially safe for households with children and pets. You can even fit them in high-rises and get the peace of mind that comes with an accident-proof home.
These uPVC tilt and turn windows from REHAU are available in three different profiles. Each of them offers superior thermal performance and strength. These profiles are so resilient that they can easily fend off the most determined of intruders, even without any reinforcement.
However, high-performance isn't all you get with our tilt and turn windows. These gorgeous windows also come in a fantastic selection of colours, including woodgrain foils. These laminate colours are durable and don't damage easily.
With our double glazing services, you get a cost-effective solution to your home improvement needs. We provide high-quality products with amazing customer service.
Benefits of uPVC Tilt and Turn Windows
REHAU tilt and turn windows give your home a controlled window opening that's safe and secure.
Safe & Secure
Because of their unique tilt opening, our uPVC tilt and turn windows give you a tremendous amount of safety. The openings on these windows are inaccessible to small children or pets, making them ideal for homes that are on higher floors.
Temperature Control
With the controlled tilt feature, you can open your tilt and turn window to any degree you want. Besides, we give you highly heat-efficient windows so you don't lose the warmth of your home. As a result, you can control how warm or ventilated your home should be.
Easy Maintenance
Since uPVC tilt and turn windows can be tilted right down until they lie flat, you can clean even the outer pane safely and securely. What's more, the colour on these windows is incredibly long-lasting so it never chips or peels, and never needs repainting.
Resilient & Durable
Our high-quality uPVC tilt and turn windows from REHAU are robust and hard-wearing. These windows give you secure strength and windows that will last you several years without needing to be replaced. They don't even need reinforcement to provide such strength.
Tilt and Turn Window Prices, Waterlooville
Considering the 10-year performance guarantee we offer, your uPVC tilt and turn window prices prove to be an attractive yet sound investment. We offer long-lasting features and no-fuss good looks.
To get a quick estimate of your tilt and turn window costs, why not try our online quotation engine? This is a clever tool that prompts you along as you fill in your requirements. It then uses these to calculate your uPVC tilt and turn window quotes bespoke to you.
You can also contact us if you have any questions about our products and services. Send us the filled-out online contact form and we shall get back to you. We will be happy to provide all the answers you need as well as your own uPVC tilt and turn window prices.
Brilliant Performance with Our uPVC Tilt and Turn Windows
The uPVC tilt and turn windows we offer are known for their enduring strength. In fact, if you opt for the GENEO range, you get a profile made of the innovative RAU-FIPRO® fibre composite material. This is a material that has been developed to give you the strength of the fibre composites used in aircraft manufacturing and Formula 1 vehicles.
As a result, you get the assurance that your uPVC tilt and turn windows will last you for a long time with no deterioration in looks, structural integrity, or features. However, even our TOTAL70 and TRITEC 60mm ranges give you incredible strength and amazing durability. They all also keep out noise quite effectively.
Depending on your choice of double glazing or triple glazing, you can also customise the thermal performance of the uPVC tilt and turn windows. However, you get incredibly thermally efficient windows as standard. As a result, your 100%-recyclable tilt and turn windows will help you keep your home safe, even in the bitterly cold winter months.
These windows also offer you the peace of mind that comes with a well-protected home. Our tilt and turn windows give you amazing rigidity even without any additional reinforcements. Their innovative craftsmanship gives you smoothly operating windows, whether you opt to have them open from the top or side.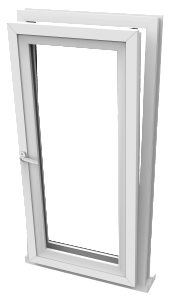 Stunning Looks with uPVC Tilt and Turn Windows
You can tailor your uPVC tilt and turn windows to match the aesthetics of your home quite easily. We offer a choice of Sculptured or Chamfered profiles so the design can match your home's architecture. We also offer a stunning selection of colours from which you can choose the hue that matches your décor and colour scheme.
Our uPVC windows come in a standard option of Classic White, or woodgrain foils of Rosewood, Mahogany, Golden Oak. However, you can also choose from 19 gorgeous woodgrain options if none of these laminate colours are suitable for you. In addition, we offer a spectacular selection of 150 RAL colours from REHAU's own Acryl II colouring system.