Industry-Leading Bifold Doors in Chichester
We supply and install industry-leading bifold doors to homeowners in Chichester and the surrounding areas. They are the ultimate way to upgrade your home to improve thermal performance, security, and sound insulation.
We work with REHAU, AluK and SMART, the UK's leading aluminium manufacturers, to provide our customers with the best possible quality bifold doors. Our manufacturers source high-quality materials to create high-performance, energy efficient home solutions.
There are a selection of styles at a range of price points, so you can find the perfect option for your home on a budget that suits you. Find out more about the unique features and benefits of uPVC and aluminium bifold doors below.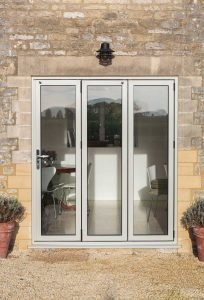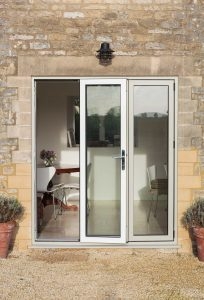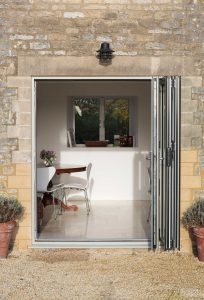 Choosing Between uPVC or Aluminium
Find the best solution for your home and budget. Whichever you choose, uPVC or aluminium, you can be confident that you are investing in high-performance folding doors that are going to completely transform your Chichester home.
uPVC Bi-Fold Doors
Our uPVC bifold doors are an energy efficient option, as they feature a multi-chambered profile. This means that they will help insulate your home, keeping it warmer for longer. You may even find that you rely less on central heating and reduce your energy bills as a result.
uPVC bifold doors also feature a tight weather seal that prevents heat from escaping and draughts getting in through gaps in the frame. This will also protect your home against mould, dampness, and leaking.
They operate on four horizontal rollers with vertical wheels made of stainless steel, which means that they can be opened smoothly. Using high-quality hardware also reduces the risk of rusting, so your uPVC bifold doors should not become stiff in the future.
Aluminium Bifold Doors
On the other hand, aluminium is a premium option that is even more thermally efficient and long lasting. In fact, whilst uPVC doors can last for up to thirty years, aluminium doors can last up to forty years!
Aluminium also offers enhanced security, as it is inherently strong and rigid. Both options are installed with multi-point locking systems so that whichever you choose, you can benefit from the best possible security systems.
Another benefit of aluminium bifold doors is that they are a sustainable option. All the materials are recyclable, which means that when it comes to replacing your doors, the frames will not end up in landfills.
Expert Installation by Aperture Windows and Doors
Aperture Windows and Doors are your trusted local installers with years of experience in the industry. Our expert fitters are highly qualified and fully accredited, so you can be confident that your project is in good hands when you choose us.
We have accreditations from industry-leading bodies, such as FENSA and HomePro, which means that we have been recognised as some of the best in the business.
Our bifold doors are made-to-measure, which means that we can offer prompt installations without any delays. We will work quickly around your schedule to cause as little disruption to your day-to-day life and so that you can enjoy your new bifold doors as soon as possible.
Bifold Door Prices, Chichester
Looking to upgrade your home in Chichester with uPVC or aluminium bifold doors? You're in the right place. With Aperture Windows and Doors, you will get high-quality products from leading manufacturers with expert installations and a 10-year guarantee at unbeatable prices. What more could you want!
The price of bifold doors will vary depending on the requirements of your project. You can get a free quote for folding doors using our online cost calculator, but please keep in mind that this price is subject to change.
For a more accurate guide price, you can contact us to discuss your project in more detail. Either call us directly on  02393 782422 to speak with a member of our team or fill out our online contact form, and we will get in touch at a time that best suits you.
In the meantime, should you have any further questions about our bifold doors, our suppliers, or our service areas, please do not hesitate to get in touch, and a friendly member of our team will be happy to help. We look forward to hearing from you!
Media
SMART Bi-Fold Doors Brochure
ALUK Bi-Fold Door Brochure