Light-up your Fareham home with our range of striking roof lanterns. We supply and install FENSA-approved double glazing and uPVC roof lanterns across Hampshire, matching our quality product with a quality service.
At Aperture Windows & Doors, we pride ourselves on exceeding our Fareham customer's expectations by delivering a high-quality service. If you'd like to see why we're so popular, why not view our Checkatrade reviews. Here you can see how we can help deliver the best roof lantern for your home.


uPVC Roof Lanterns
The uPVC Roof Lantern is an ideal way of letting light into Fareham homes where conventional windows cannot. In areas such as a conservatory, a roof lantern can make your glazed extension brighter, even with windows on all walls. Whether you choose a flat roof lantern or raised lantern roof for your Fareham home, you'll get to enjoy enhanced lighting and a fantastic view of the great outdoors year-round.
We use the market-leading Eurocell Skypod roof lanterns, which will help to trap heat within your Fareham home. These roof lanterns utilise the broken up uPVC profile to trap heat within your property, giving you a warmer home year-round. This way, not only can you enjoy the sun and rain from the comfort of indoors, but you can do so without getting cold.
It's not just thermal efficiency where our roof lanterns excel. The Eurocell Skypod skylights are stunning to look at! As they have no crestings or finials on the roof, your roof lantern will have a cleaner look and not look out of place in your property. The large glazing areas and thin uPVC frame allow for more natural light to flood into your property.
The Fareham homeowner can also customise their roof lantern to fit their property perfectly, with a choice of colours and designs available. We offer two bar or three bar Gable pitched roof styles. We also offer several different external colours and double glazed finishes such as clear, blue, bronze or neutral.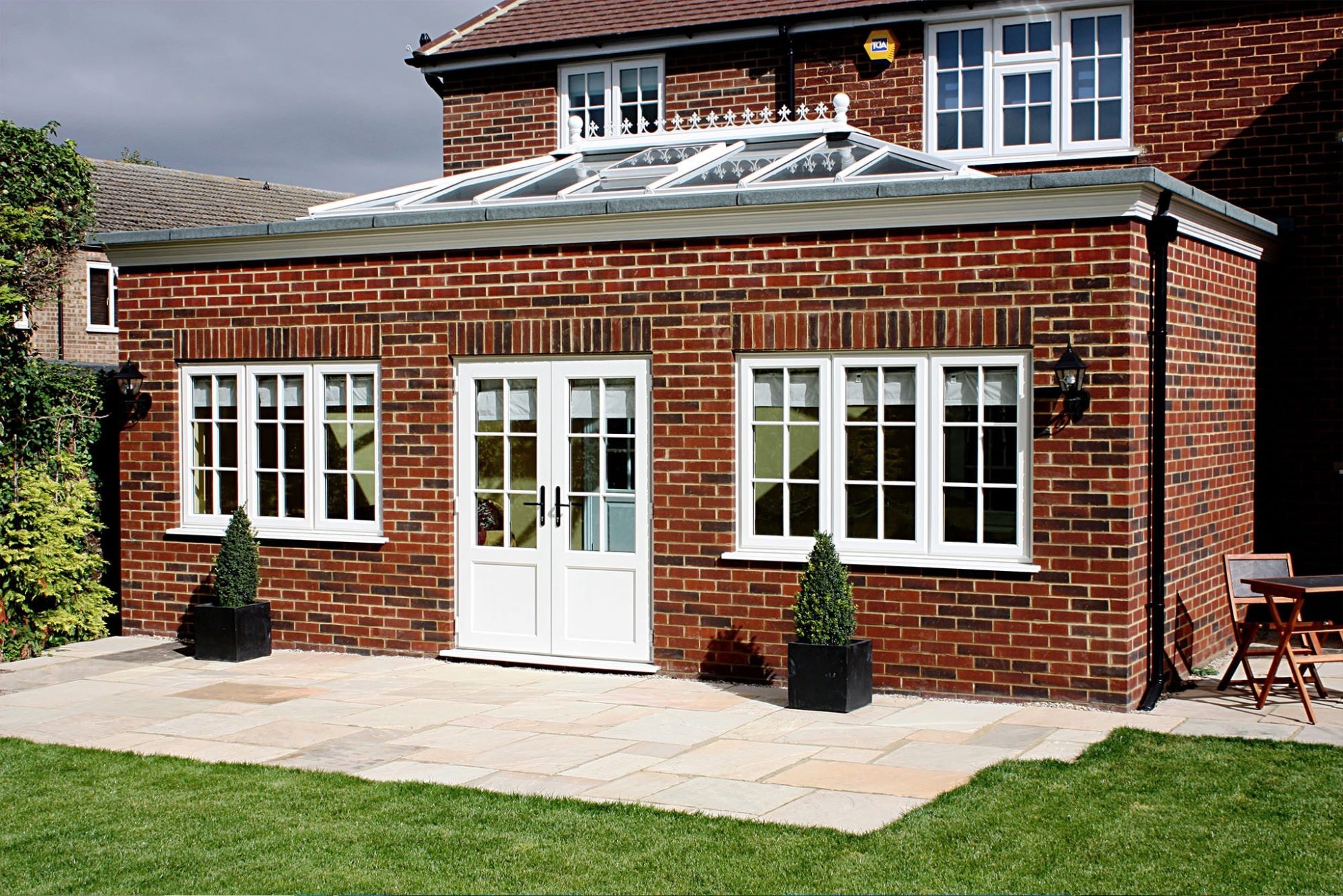 uPVC Lantern Roofs
Let the light into your Fareham home with our Eurocell roof lantern.
Natural Light

Our roof lights allow you to flood your extension or room with natural light thanks to the slim-framed design. You can improve the brightness of any room, even if you cannot have windows on the walls.
Reducing Energy Bills

Our uPVC roof lanterns will save the Fareham homeowner money on energy bills. The lanterns are well-insulated to retain heat inside your property for longer, reducing your reliance on central heating and in-time, your energy bills & home's carbon footprint.
Choice of Design

With our roof lanterns, the Fareham homeowner gets an attractive design feature tailored to their needs and home's aesthetics. The clean lines have no obstructions and available in a variety of colours.
Affordable Quality

Unlike aluminium skylights, our uPVC roof lanterns are competitively priced and designed to give a fantastic performance. Combined with the affordable roof lantern prices we offer, the Fareham homeowner can expect a great deal.
Roof Lantern Prices, Fareham
If you'd like to get more information on a roof lantern for your Fareham home, then fill out our online contact form. A helpful member of our team will aim to get back in touch as soon as possible, answering any questions you may have about or double glazing range, and even be able to provide you with a quote.
If you already know what style roof lantern you need for your Hampshire home, you can request a quote by filling out our online cost calculator. All you need to do is input your specifications and a member of our team will calculate a personalised price for you.
Your Local Double Glazing Company in Fareham
High Performance Skypod Roof Lanterns
Our roof lanterns have been manufactured to provide a quality performance once installed within your Fareham home. We accompany our lanterns with a 10-year insurance-backed guarantee on quality, giving you an affordably priced product that lasts. You'll also enjoy the peace of mind that comes with making a sound investment.
A main feature of the Skypod lantern roof is the exceptional thermal efficiency you'll enjoy. As heat rises, our roof lanterns will trap the heat within your property, keeping it at a comfortable temperature for longer.
Additionally, our roof lanterns are delivered quickly and installed even faster. As a result, you'll be able to enjoy your new skyline without having to wait for a long period or suffering due to a long installation.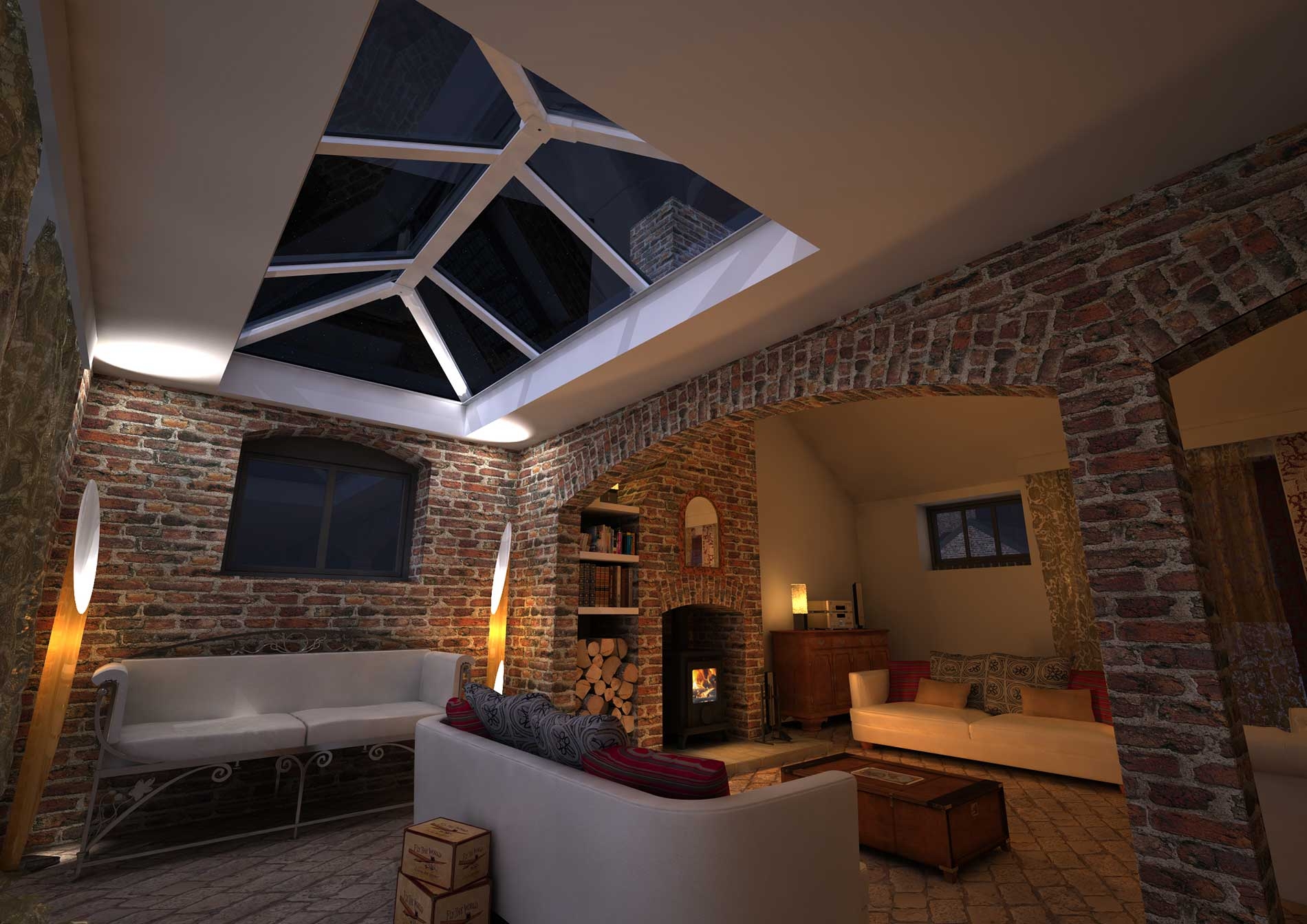 Tailored Lantern Roofs
Our roof lanterns need to match the style and décor of your Fareham or Hampshire home. That's why at Aperture, we offer a range of styling options so you can tailor your skylights to your own taste and your home's style.
You can select the frame colours of the roof lantern, letting you match the lantern to the décor inside as well as the colour scheme of the outside of the property. Fareham homeowners can also choose from a range of glazing and glass finishes.
Finally, you can style your roof lantern to your own tastes. We have a two bar, or three bar Gable pitched style. As a result, you get control over how your roof lantern and your home looks.
Why Choose the Skypod Roof Lantern?