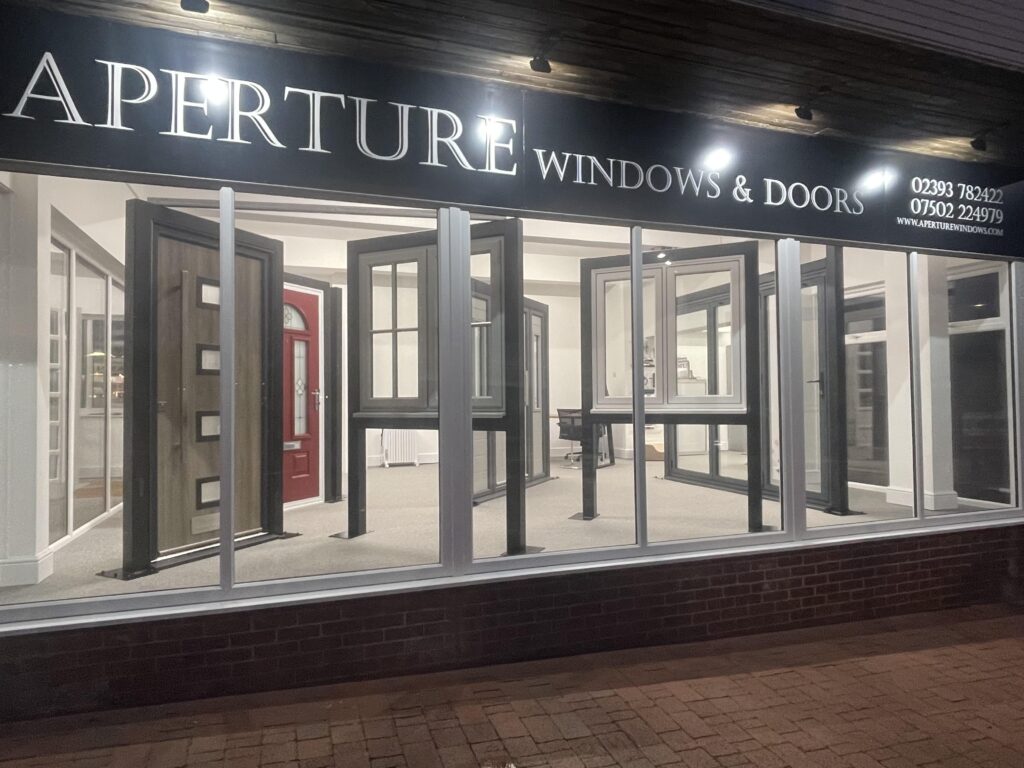 Introducing Our New Showroom in Horndean!
Aperture Windows and Doors are proud to announce the opening of our new showroom in the easy to reach area of Horndean. Nestled amidst the rolling Hampshire countryside, this state-of-the-art facility stands as a testament to the company's commitment to innovation, elegance, and impeccable craftsmanship.
The Elegance of Design
Our new showroom is a marvel of contemporary design. From the moment our visitors set foot inside, they are in awe of the collections of stunning windows and doors on display. The sleek lines, expertly crafted frames, and premium materials showcase Aperture's dedication to providing products by approved REHAU manufacturers that enhance the aesthetic appeal of any property and improve functionality and energy efficiency. 
A Showcase of Cutting-Edge Home Improvement
As pioneers in the industry, Aperture's showroom incorporates the latest technological advancements in the world of windows and doors. Visitors can explore a wide range of Windows, Doors, Roof Lanterns, and Conservatory options that we are able to install. The fusion of technology and design reflects Aperture's commitment to providing innovative solutions that cater to the demands of modern living.
Impeccable Craftsmanship 
Each product displayed in the showroom reflects the highest standards of craftsmanship. Aperture ensures that every window and door is made to perfection, using the finest materials sourced sustainably. From classic timber designs to sleek aluminium profiles, every product embodies the essence of quality and durability, making them a lasting investment for homeowners.
A Personalised Experience
The Aperture showroom in Horndean offers more than just a display of products; it provides visitors with a personalised experience. Knowledgeable and friendly staff are on hand to guide customers through the various options, discussing their unique needs and preferences to find the perfect solutions for their homes. Whether it is choosing the ideal glazing options, exploring different colour finishes, or selecting the most suitable security features, the Aperture team ensures that each customer's vision is brought to life.
Environmentally Responsible Solutions
One of the standout features of Aperture's showroom is its dedication to environmentally responsible solutions. With a growing emphasis on sustainable living, the company offers an impressive range of eco-friendly windows and doors. From energy-efficient glazing to responsibly sourced materials, Aperture provides options that not only reduce carbon footprints but also contribute to the conservation of natural resources.
Inspiring Home and Design Trends 
The Aperture showroom serves as a source of inspiration for homeowners and design enthusiasts alike. With stunning displays that showcase the latest trends in architecture and interior design, visitors can explore various styles and gain insights into how different windows and doors can transform living spaces. From contemporary urban residences to charming countryside cottages, Aperture's products are versatile enough to complement any setting.
Community Involvement
Beyond being a premium destination for windows and doors, Aperture's showroom also demonstrates the company's commitment to community involvement. Hosting educational workshops, design seminars, and eco-friendly initiatives, the showroom fosters a sense of belonging and encourages sustainable living practices among the residents of Horndean and its surrounding areas.
Book an appointment to visit our new Horndean Showroom
So come and visit our new showroom in Horndean! Discover all the home improvement options we offer, talk to our friendly showroom team, and take the first steps in improving your home. The showroom serves as a gateway to a world of possibilities, inspiring homeowners to create living spaces that are both stylish and sustainable. Fill out our online contact form or give us a call at 02393 782422 to book an appointment today! You'll see a variety of the collections we offer for home improvement solutions and have our fantastic showroom team on hand to help with any queries!
Start Your Double Glazing Quote
Head to our
online quoting engine
and receive a free no obligation quote for your home improvement projects today. Our team can offer the fully bespoke service of product customisation and installation. With over 10 years in the home improvement industry you'll feel reassured you're in safe hands, and will receive exceptional results!
You can share this story by using your social accounts: